"At your place or ours."
Notarized Document Management Service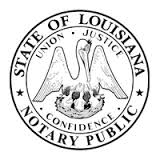 Louisiana notaries are sworn public officials appointed by the governor with consent of the senate and are given broad and far-reaching powers to draft and execute many different types of instruments having legal effect. We will prepare your document, notarize it, manage the process on or off-site, fax, ship, record the document, and digitize your paperwork. We work per item or at contract rates, invoice, and take credit card.
Typical documents requiring a notary:
A. GOVERNMENT AGENCY FORMS – Nawlins Notary & Auto Title, LLC will not only notarize forms you need to interface with government agencies but also physically manage the process between you and the agency. Most forms in government processes need to be notarized including simply sending them a bill. Below are government forms that must be notarized.
SPECIFIC CITY OF NEW ORLEANS FORMS
City of New Orleans Permit and License Applications can be found here
CPNC transfers and renewals
B. FAMILY
Declaration of Intent to Change Domicile – A sworn declaration of intent to change domicile, when recorded in the parishes from which and to which he intends to move may be considered as evidence of intent.
Form for marital-status-change declaration – a declaration as to whether there has been a change in the marital status of any party who is a transferor of the immovable or interest or right since he acquired it, and if so, when and in what manner the change occurred
Matrimonial Agreement "Separate property" – A contract made by a couple intending to marry, or by a married couple, for the purpose of establishing a separate property regime or modifying the legal regime.
Separate Property, Declaration of Acquisition of – A declaration in an act of acquisition that things are acquired with separate funds as the separate property of a spouse may be controverted by the other spouse unless he concurred in the act.
Renunciation of right to concur – The express or tacit abandonment of a right without transferring it to another.
Power of Attorney – allows you to appoint someone to represent you in business and financial transactions for general or specific conditions when you are unavailable.
Act of donation – An appearer gives property or movables to another, who accepts it.
Act of Adult Adoption – When the person to be adopted has attained the age of majority, he can be adopted without a judicial proceeding, but only if the adoptive parent is the spouse or surviving spouse of a parent of the person to be adopted.
Limited Emancipation by Authentic Act – is the conferring of the effects of majority on a minor who has attained the age of sixteen, or who is married.
Non-Legal Custodian, Affidavit of – allows a "non-legal custodian" to give consent for a child to receive medical or educational services for which parental consent is usually required.
Wills
Provisional Custody by Mandate – authorizes the mandatary to make decisions with respect to the education, medical care, discipline, shelter. support, or general welfare of the child for 1 year.
Conditional Procuration – A unilateral juridical act by which a person confers authority on another person to represent him in legal relations
Personal Servitude – Usufruct – A right of limited duration on the property of another, Habitation – the nontransferable right of a natural person to dwell in the house of another, Right of Use – confers in favor of a person a specified use of an estate that is less than the full enjoyment conferred by a usufruct.
Small Succession by Affidavit – Can be done with a notary by affidavit. It is he succession or the ancillary succession of a person who at any time has died leaving property in Louisiana having a gross value of seventy-five thousand dollars or less valued as of the date of death or, if the date of death occurred at least twenty-five years prior to the date of filing of a small succession affidavit.
C. MOVEABLE PROPERTY – Nawlins Notary & Auto Title, LLC can prepare a notarized title, DMV 1799 along with Power of Attorneys, Acts of Donations, Bill of Sales, Notice of Corrections, Affidavit of Vehicle non-purchase,Act of Immobilization of a Movable, etc for you to take to the DMV or arrange for an affiliate plate agency to process your transaction.
D. IMMOVABLE PROPERTY – Nawlins Notary & Auto Title, LLC can confect and notarize the following documents for your land and home including:
Act of Private Works, Building Contract Liens – establishes a privilege on an immovable to secure obligations arising out of construction or repairs made on an immovable.
Act of Sale – 

A seller and buyer agree to terms on a whole or part interest in an immovable, with express acceptance on the part of the buyer.

Deed, Bond-for – A contract to sell real property, in which the purchase price is to be paid by the buyer to the seller in installations, and in which the seller, after payment of a stipulated sum, agrees to deliver title to the buyer
Deed, Quitclaim – A common law term referring to a release of any rights, disputed or otherwise, a person has in immovable property
Giving in Payment (DATION EN PAIEMENT) – an act in which a debtor transfers ownership of a thing to his creditor in payment of a debt
Mortgage Cancellation – require submission of a formal "request for cancellation" with appropriate attachments
Partition – The act of dividing real property held in common into individually owned interest
Sale, Cash – AKA – Cash Deed, Warranty Deed; a conveyance act where by the seller (vendor) conveys the immovable in exchange for the price paid in money by the purchaser (vendee)
Sale, Credit – A contract of sale and mortgage and must contain the components of both; the sale is owner financed
Sale, Exchange – a contract whereby each party transfers to the other the ownership of a thing other than money.
Sale, with the Right of Redemption – A contract of sale may agree that the seller shall have the right of redemption, which is the right to take back the thing from the buyer
Predial servitudes – A predial servitude is a charge on a servient estate for the benefit of a dominant estate.
Protest – a certificate of dishonor made by a notary certifying that a note, check, or other commercial paper was not satisfied when presented to the maker.
Lease – Agreement by one party to let another party use a thing for a fixed price and term
E. COMMON MISCELLANEOUS NOTARIAL ACTS
Act of Correction – 

A party to an earlier act appears to correct an error.

Acknowledgments – after-the-fact party signature acknowledgments of a prior document. Can only be done if the prior document was done in proper form.
Affidavits – a written statement, or declaration, made under oath before a notary or other official authorized to administer an oath, and signed by the affiant and the officer. The affiant makes the declaration or statement under oath and is therefore subject to penalties for perjury or false swearing.
Oath of office – it is either a solemn promise to faithfully perform the duties of a public office or of another position of fiduciary responsibility imposed by law (such as an executor), or a solemn promise that a declaration 1nade or about to be made either orally, or in writing, is the truth. To swear in persons who give testimony at a deposition, and to verify interrogatories and other pleadings to be used in the courts in this state.
Protho-Notarial Certificate – is an attestation, usually certified under "Acts of Congress," issued by the clerk of court in the notary's parish of commission, establishing that a particular person is a duly appointed, commissioned and qualified notary public in that parish.